RELATED ARTICLES
How to Ship eBay Items with the U.S. Postal Service

eBay Business Tips for Protecting Your Data

Having QuickBooks Report on Your eBay Business

Becoming an eBay Elite Seller

Tasks You Can Automate for Your eBay Business
Load more
Business
Online Business
eBay
How to Ship eBay Items with the U.S. Postal Service
How to Ship eBay Items with the U.S. Postal Service

Related Book
EBay Business All-in-One For Dummies, 3rd Edition
By Marsha Collier
The USPS is open to everyone. You don't have to set up an account to use its services to ship your eBay merchandise. To get a basic idea of what you'll pay to send a package, you can access a rate calculator on the USPS website .

Convenient and fast
The post office has worked hard to keep up with the competition in the parcel business by offering many online features and custom pickup. They also offer many classes of service, with a weight maximum of 70 pounds. Note that the USPS delivers packages seven days a week, the other major carriers count only five business days.
Service
Time to Cross the Country (Days)
What You Can Ship
First Class
3–5
First Class mail can be used to mail anything, as long as it
weighs 13 ounces or less. You can send a letter, a large envelope,
or a small package.
Priority Mail
2–3
Priority Mail is just First Class mail on steroids (for heavier
items).
Standard Post or Parcel Select
2-8
Standard Post is cheaper (and slower) than Priority Mail.
Media Mail
2-8
Media Mail is the least expensive way to mail heavy items. The
only caveat is that you can use Media Mail to ship only books,
film, manuscripts, printed music, printed test materials, sound
recordings, scripts, and computer-recorded media such as CD-ROMs
and diskettes.
Read on for details on the most popular forms of mail used by eBay sellers.
First Class
Good old regular mail — in particular, First Class — is the way everyone send bills and letters. It works also as an economical alternative for eBay items weighing up to 13 ounces.
Sending items in bubble-wrap envelopes will often get the shipping weight under the 13-ounce maximum for First Class mail.
Too many sellers make the jump to Priority Mail because they don't take the time to think about the weight of their items. It doesn't have to ship in an envelope to go via First Class mail.
Priority Mail
The two- to three-day Priority Mail service is the most popular form of shipping for eBay packages. There are three price options: Flat Rate. Regional Rate, and weight/distance. You can get free cartons from the post office. You can also print postage online through Endicia or Stamps.com .
The Priority Mail rates are perfect for 1-pound packages (starting at $4.90 flat-rate cross-country when printed online) and 2-pound packages (from $5.80, based on distance). They also have a flat-rate Priority envelope in which you can jam in as much as possible (regardless of the package's final weight) for $4.90.
Because USPS rates are based on distance and weight, you can save money by using their new flat-rate Priority Mail boxes. The new Regional Rate boxes (sizes A, B, and C) can be a deal with the medium size B box starting at $6.91. Flat-rate boxes ship anywhere in the United States for as little as $12.35 for a medium box.
The Priority Mail rates (including free shipping materials) are attractive until you get into heavier packages.
Standard Post (AKA Parcel Select)
If you want to use the USPS and have a heavy package (up to 70 pounds) that doesn't fit the requirements for Media Mail, use Standard Post (formerly Parcel Post). Even with the latest rate changes, USPS Parcel Post rates can be highly competitive when you compare them to the UPS or FedEx Ground rates.
When you print your postage electronically, this service is called Parcel Select. Standard Post is for those who buy postage at the Post Office.
Media Mail
To stay new and hip, the post office renamed its old Book Rate to Media Mail, causing many eBay sellers to mistakenly miss out on this valuable mailing tool. The savings are immense. The drawback is that you must mail only books, cassettes, videos, or computer-readable media. Transit time on Media Mail is at least 7to 10 days, but the cost savings on heavy packages may be worth it.
The costs of USPS
The Postal Service levies additional charges for some often-used services but also gives free services to online postage customers:
Pickup: If you print your own postage from an online service or print direct from eBay or the PayPal site, the post office offers free pickup. You have to give your packages to your carrier at the time of your regular delivery or schedule a pickup on the USPS site .

Insurance: This guarantees that you're covered if your package doesn't arrive safely and will reimburse you up to the value you declare when purchasing the insurance, up to a maximum of $5,000. If your package gets lost or severely mangled in shipping, the Postal Service will, after a thorough investigation, pay your claim. Fees start at $1.95 for packages up to $50.

USPS Tracking: Previously known as Delivery confirmation, USPS Tracking you'll get point-by-point tracking details. It also provides you with proof of delivery or attempted delivery. This number is included free for most postal services when you print your postage electronically. You can check the status of any package by submitting the number.

You can also verify a package's delivery by calling a toll-free number, 800-222-1811.
Here's a quick way to find out postal zones from your place of business.
How to Send and Receive Mail Using the US Post Office Without Pain and Suffering

Adam Dachis
Filed to:
Usps
Filed to:
Usps
Usps
Lost mail
Post Office
Mail
Stamps
Snail Mail
Top
Edit
Embiggen
Send to Editors
Promote
Share to Kinja
Toggle Conversation tools
Go to permalink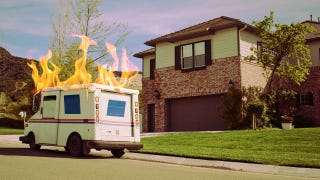 The US Postal Service offers a lot of cheap mailing service and daily delivery to your home, but if you've ever visited one of these post offices you might have noticed they kind of suck. Here are a few ways you can improve the situation by shipping without leaving the house, never paying for supplies, and giving your mail a better shot and actually getting delivered.
Title photo by John Habell (Shutterstock).
When I was a kid, I loved the post office. My postman was a nice guy. He brought the mail, and the prospect of getting a surprise letter was always exciting. When I wanted to mail a letter of my own I had so many wonderful stamps to choose from. As I grew, Priority Mail was introduced and there was a suddenly an inexpensive way to send anything all around the country in just a few days. I used to love going to my local post office in the beginning, but then things got bad. Staff started to disappear and prices went up. New safety laws were put in place that made sending mail from the comfort of your home more difficult. Mail was frequently lost. This wasn't the post office I knew when I was little. Not being so naive as to think I could change the the government, I did a little digging to figure out how I could still use what the US Postal Service does well without the pains that come with the things it doesn't. Here's what I learned.
Skip the Postal Line, Even When Mailing Big Packages
You may or may not be aware of this, but if you try to mail a package over 13 ounces without handing it to a postal worker yourself, you could be a terrorist. I learned this the hard way by getting a package sent back to me with a letter about the new rule. This is inconvenient—especially for people who use the USPS' online services to mail many packages per day. While I don't know if this is specifically why the postal service changed the rule, you're no longer bound by the 13 oz. rule if you've purchased postage on the web or using an Automated Post Office machine. It seems to me that if there are any packages worth this minor bit of security theater it would be those originating from the internet, unless the US government is simply interested in stamp-collecting terrorists, but this change does make trips to the post office a lot more convenient. Just buy some online postage (or get a stamp printer —the hardware costs money but saves a lot of time), attach it to your package, and either dump it in your post office's package drop or hand it to your mailman (only if it's small). In most cases you'll still have to go to the post office, but you'll only be making a drop off. You won't have to wait in line to buy your postage or simply to give them your already-prepared shipments.
Photo by Liz West .
Stop Paying for Boxes
Shipping materials can get a little pricey, but one of the great things the post office does is offer boxes for free. The requirement is that you use their Priority Mail service, but chances are that is the cheapest option if you're mailing a package in the first place. You can just go to your local post office and grab as many boxes as you need. It's good to keep a stock at home if you mail often so you can just prepare everything in advance and not waste any time. If you're really lazy, the USPS will even deliver your free boxes supplies at no cost. You don't have to pay for the supplies or to have them delivered. If you want to avoid the post office altogether, or just don't want to pilfer its supplies, you can still get what you need without every leaving your house.
Avoid Lost Mail
I once went to a shipping store to mail a package and requested USPS Priority Mail because it was the cheapest. The man behind the counter offered to throw my package in the trash, claiming that if he did it then it would get there faster and for less money. The US Postal Service is notorious for losing mail, and while you can't ensure that your package will arrive or that you'll receive your mail there are a few things you can do to improve your chances.
First, don't ship First Class. You can think of the USPS' three primary mailing services like an airplane. Express Mail is (ironically) the first class cabin. Priority Mail is coach. First Class Mail is the cargo hold where your suitcases get lost and your traveling pets go to die. When you throw a ton of mail together and it's massively transported at a very low cost, you probably shouldn't expect much. You can send packages via First Class (or Media) Mail but it won't save you a ton of money and you know where it's going. When you send your stuff via Priority or Express Mail, you gain two important things: fewer sorted items to contend with and a colorful box (if you use USPS packaging, that is).
With less mail comes a lower chance of loss, of course, and a colorful box makes your package easy to spot. This may not do much for your postal worker but it does make it easier for the recipient (which may be you) to see. Seeing as "DELIVERED" means the mail is no longer on the truck , your package or envelope might not end up in front of a door every time. It helps if it is visible and contrasts with the environment. I live in Southern California where most housing is the color of cardboard or human flesh, and brown boxes blend in pretty well with both from afar. Priority Mail and Express Mail boxes, however, are very easy to see. Use them when shipping or put something colorful on your mail when other packaging is necessary.
Finally, if your mail is important, buy insurance. It can take awhile for a claim to be processed, but at least you'll eventually get your money back.
Cartoon by Dave Granlund .
---
You can follow Adam Dachis, the author of this post, on Twitter , Google+ , and Facebook . Twitter's the best way to contact him, too.
Kotaku
Two Riot Employees Leave Under Complicated Circumstances After PAX Session Excluding Men [UPDATE]
The Root
Sarah Sanders's Misguided Call to Action Has the Opposite Effect
The A.V. Club | News
R.I.P. Bill Daily, from The Bob Newhart Show and I Dream Of Jeannie