Popular DJ School Dubspot Accused of Scamming Students
Over 55 students have alleged that the school did not deliver the classes they paid for.
SHARE

TWEET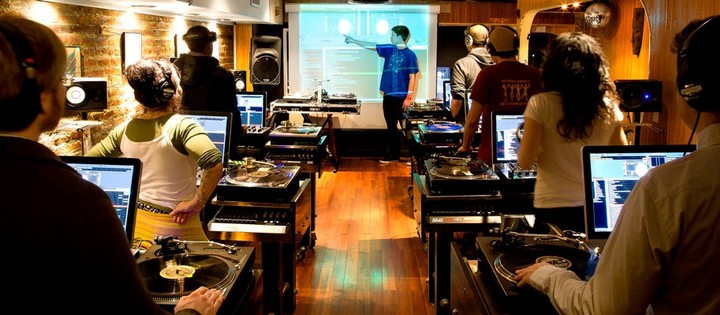 Dubspot. Photo via Pinterest.
SHARE

TWEET
Former students and teachers of the internationally renowned electronic music production and DJ school Dubspot have accused its CEO Dan Giove of fraudulent activities and erratic behavior, THUMP has learned. In emails seen by THUMP, over 55 students alleged that the school did not deliver the classes which they had paid for upfront, and in some cases have not issued refunds.
In the emails, students complained of poor communication on the part of the school's staff, and classes being rescheduled multiple times. Students also said that when they did manage to go to a class, there was often no instructor present because they themselves had not been paid their teacher's fee and refused to teach.
Nina Braith, from Austria, had paid $4,396 for an Ableton Live Producer Certificate course at Dubspot's New York location that was due to start in March. After not hearing from the staff about an official start date, she went to the school in April to see what was going on in person. "The school was a mess," she told THUMP. "There was hardly any equipment there anymore and I was offended by a guy who was [at the school], and rudely asked me to leave."
"I have spoken to two teachers who had worked at Dubspot before and can't believe how much money Dan Giove already owes to so many people, students and teachers, and for how long this situation is already going on," she added. After not hearing back about getting a refund from Dubspot, Braith was able to get her money back via her credit card company.
The school's two physical locations, its New York flagship and its LA outpost, have now both closed, but no formal announcement has been made by the company. Dubspot, which was founded in 2006 by Giove, is also currently the subject of ongoing legal action by students and staff who have taken their cases to court for amounts ranging from $150 to $10,000.
While some students have already won their cases in the courts, most of the students THUMP spoke with said they have yet to receive a response from staff regarding their refunds. Multiple top level employees at the company also appear to have left within the last six months, according to their public professional networking profiles.
As recently as April 2017, online support and admissions employees were still collecting fees from students eager to sign up for courses. Dubspot's online school, which offers remote learning, still appears to be taking reservations for classes. The company's social accounts are also still functioning, with no mention of the closed locations or cancelled classes.
Robbie Lumpkin—a former student and marketing employee at the company who currently works as a promoter, DJ, and stage manger at Output nightclub in Brooklyn—told THUMP about Giove's often erratic and volatile behavior, saying the CEO's decision to open a new space in LA was ill-conceived and the "nail in the coffin" for the company. According to Lumpkin, a number of senior staff at Dubspot tried to deter Giove from opening the school's LA location back in 2014 by pointing out there was not adequate funding for the expansion. As corroborated by other former employees at the company, at least six of those employees were swiftly fired by Giove after a team meeting in New York.
Mike Henderson—a former early employee of Dubspot who helped design much of the school's digital DJing curriculum, including a Traktor class he taught with notable DJ Shiftee —recently quit the company. He told THUMP he was given audio gear by an apologetic CEO Dan Giove in lieu of owed paychecks and commissions.
THUMP has also seen a lengthy email thread originating from an email address called "Dubspotowesme" with numerous disgruntled Dubspot customers, who connected with one another to share their stories and discuss potential legal action they could take against the school. Among those on the chain include a mom who bought her son a series of classes as a postgraduate course, two Austrian natives who obtained visas and apartments in the United States to take Dubspot courses, as well as various other students whose stories seemed to follow a similar theme.
THUMP's request for comment was not returned at the time of publication.
David Garber is on Twitter .
SHARE

TWEET
Tagged:
DJ school
dubspot
Dan Giove
Dubspot NYC


News
FACT Magazine: Music News, New Music.

News
Features
FACT Mixes
Make Music
FACT Rated
Fact TV
Info

About
Our Team
Contact Us
Newsletter
Follow

Facebook
Twitter
Youtube
Snapchat
Instagram
Pinterest
SoundCloud
Mixcloud
RSS
Medium
FACT Magazine: Music News, New Music.
Now reading:
How world-renowned DJ and production school Dubspot collapsed…
AAA
Against the Clock
Selects
FACT Stories
FACT Freestyles
Gear Guide
In The Studio
On Air
How To Make A Track
FACT Premieres
Record Shopping
Singles Club
Dubplate Masters
The Vinyl Factory Films
Interviews
News
Features
FACT Mixes
Make Music
FACT Rated
Fact TV
About
Our Team
Contact Us
Newsletter
Weekly Playlist
L-Vis 1990 & Sinjin Hawke Feat. Pink Dollaz
–
'Cake (UNiiQU3 Remix)'
Playlist
L-Vis 1990 & Sinjin Hawke Feat. Pink Dollaz
'Cake (UNiiQU3 Remix)'
Blawan
'North'
Viva La Void
'Red Rider'
Oli XL
'Stress Junkie'
E-40
'Boy' (feat. P-Lo)
Honnda
'Maraschino Zap'
Carlos Giffoni
'Vain's Face'
Kawaguchi Masami's New Rock Syndicate
'From Now On'
Antemeridian
'Tuesday AM'
Aïsha Devi
'Dislocation of the Alpha'
Ras G & The Afrikan Space Program
'The Arrival'
Jay Prince
'In The Morning'
MJ Cole x Kojey Radical
'Soak It Up'
Knightstown
'Keep'
Will DiMaggio
'UH UH OH'
Dubspot
How world-renowned DJ and production school Dubspot collapsed after being accused of fraud
By
David Garber
, Dec 3 2017
Dubspot, an internationally-renowned DJ and production school with now-shuttered outposts in New York and Los Angeles, was the locus of one of the most fascinating electronic music news stories of the year. Reporting for VICE's since-folded site THUMP, David Garber discovered unpaid instructors and employees and classes that were paid for but never in session. Here, Garber speaks to Dubspot's former CEO, Dan Giove, and a slew of former students and employees to get to find out what really happened.
New York's Dubspot once had a positive and productive vibe. Founded in 2006 by Dan Giove, it was one of the first places to offer a quality hands-on education in electronic production and DJing. Dubspot quickly thrived, garnering press coverage from Synthtopia, Time Out New York, TIME and NY1, among others. House music institution Abe Duque and renowned turntablist DJ Shiftee have taught there and icons like DJ Sprinkles and Nile Rodgers have collaborated with the program. In its prime, Dubspot had events, a café, a podcast series, a blog and notable alumni across the electronic music spectrum, like Jubilee and Hyperbits. Courses, which could run upwards of $6000 were regularly sold out months in advance. Now, Dubspot is all but dead.
In May of this year, Giove stepped down as CEO of the company amidst a sprawling scandal caused by canceled classes, missed student refunds, unpaid staff and accusations of professional and personal misconduct. The school had already lost its physical location, a neon-lit, brick-walled hangout adorned in trendy pop-art and, of course, a disco ball in New York's Meatpacking District. Giove alleges the reason why the school had to relocate was because the landlord planned to the sell the building, but a new NYC outpost has never opened. After months without refunding or explaining to students who had paid the school's costly tuition – some who traveled from overseas just to take classes – Giove broke his silence. In an email to a select group of students, former employees and others once involved with the school, he announced he'd be transitioning to a support role and avowed  mistakes he'd made as a CEO. Despite this role change, many of Dubspot's debts reportedly remain unpaid.
"There were lots of shady refund practices with students; it seemed like a money-grab kind of situation."
Many former employees who participated in this story, from early managerial staff and instructors to interns and and support employees, describe the early years at Dubspot as fruitful and fertile – one even called working there "magical". Former Dubspot Marketing and Research & Development manager Dave Cross, who was doing publicity for Ableton when he initially met Giove, remembered Dubspot's early years as a place with "a lot of people running around, really healthy activity in the NYC school and an online school that was starting to take off." Over time, Cross says he saw the tides begin to turn including erratic behavior from Giove and a dire need for reorganization – particularly with the school's budget (or lack thereof) and its payroll.
Another early employee, Henrich Zwahlen, who helped design pivotal courses in Ableton, sound design, Komplete and Maschine, says Giove "believed he was infallible" and described a variety of "cutthroat practices" and issues with the company's dwindling budget, leading him to quit earlier this year. "There are some people that actually saw that [the school's] books were in disarray and that [Giove] was going to go broke," Zwahlen says. "They wanted to invest in the company and give him a minority stake, but he didn't want to do that and fired them."
Robbie Lumpkin, an intern-turned-marketing employee at Dubspot, appreciated the school's early years. He notes its knowledge and friendly instructors, as well as craftily accelerated courses, but echoes the descriptions of Giove as unpredictable, disagreeable and often absent. "There were lots of shady refund practices with students; it seemed like a money-grab kind of situation," an anonymous source said. "[Giove] still owes me money to this day."
Dubspot's Los Angeles location was conceived in 2014 when Giove decided to move across the country and set up shop on the West Coast. Many former employees claim he was doing so without proper funding or investment and no plans, something Giove admitted himself in a public statement following his resignation. Before the move, a number of employees tried to talk him out of it and were later fired; Giove suspected an attempted coup. Despite taking multiple meetings with investors, including record label and capital management company Plus 8, which boasts Italian DJ John Acquaviva as a managing partner and bigwigs like Richie Hawtin and Pete Tong on their advisory board. Employees say Giove immediately had doubts about taking in outside money – he came off as skeptical about it in interviews, as well – and additional support never materialized.
Cross says that he and four other higher-ups soon recognized that money intended for the LA expansion was being spent on extravagant décor. Giove explains that the pieces, like a rare African mask that allegedly cost $50,000, were purchased in hopes of developing an art-focused "community space" within Dubspot. Cross and others decided to approach "middle managers" at Dubspot, many of whom were planning to relocate to LA, about the inadequate funds. Cross says he and four other employees tried to plan a conversation with Giove to convince him to halt the expansion until there was proper funding. An anonymous employee altered Giove to that meeting, Cross says, and soon three people were fired; Cross quit soon after that.
Giove doesn't deny it: "I fired two people. They were accusing me of not caring about my employees and not knowing what I was doing when, in fact, I was going through a rough time being out [in LA] on my own, trying to get [the new school opened]."
Mike Henderson, aka DJ Endo, a former Traktor Digital DJing instructor was part of the crew moving to LA. Henderson, who also designed some of Dubspot's curriculum and created videos for the school's YouTube community, was aware of the internal drama and was also owed back pay for his work. But unlike most former employees, Henderson has a forgiving outlook. "I think it just spun out of control," he says. "The commission checks weren't coming in and I basically had to put a strong arm down." Henderson was eventually compensated, he says, with a "bunch of gear": "Dan was like, 'Here, man. I can't pay you, but just take this gear, sell it.'"
Dubspot's reputation attracted plenty of international students, including Austrian natives Nina Braith, Iva Zabkar and Mee Eun Kim. All three students paid $4000 and beyond to enroll and applied for visas to travel overseas to take classes. Braith stopped receiving communication from Dubspot before her course was supposed to begin; further communication was confusing and sporadic. Zabkar had heard about troubles within the school, but was able to talk to Giove in person prior to signing up for a class. He showed her around the facility and explained that the current disorganization was because Dubspot was about to lose their lease. She ultimately decided against taking a class. Braith was not as lucky. She chose to trust Giove's word that the classes would still run at the Meatpacking District HQ amidst these rent issues and paid to start the course. It never took place. She was eventually refunded by her credit card company after months of trying to get her money back from Dubspot.
Mee Eun Kim had already been living in New York for work when she signed up for her Dubspot course and planned to go back home after the class ended this past April. When the course never started, Giove again attributed the delays to the building's sale and offered Kim private lessons in lieu of a refund – she had paid with a bank transfer when there was trouble with her credit card. Kim accepted and extended her stay in the US. After an eventual halt in all communication, Kim took Dubspot to a small claims court in May; Giove did not show up on the trial date. According to Kim, her efforts to subpoena Giove to show up at court have been unsuccessful and she's learned from multiple banks that he has closed his accounts.
"Dealing with mental health issues when you're starting a business is one of the hardest things you can ever do."
Many former employees who participated in this story have suggested Giove has a problem with alcohol, but according to Giove, he was sober for nine years after founding Dubspot. "For young business owners, dealing with mental health issues when you're starting a business is one of the hardest things you can ever do," he says. "It makes you absent. There's a lot I think that could come out of this for anyone working in the music industry. It's so closely tied to mental health issues. For me it's been dealing with depression and anxiety and all kinds of other things that come with doing this."
Giove is now more self-reflective and regrets not being more transparent about his irresponsibility with Dubspot's money. Having to shutdown the school's original location, which he had grown from a humble one-room outfit to a world-renowned, bi-coastal company, was difficult for Giove to deal with emotionally. "It's beyond heartbreaking," he says. "The worst part of it all was not being able to pay the students, teachers, and creditors the money they were owed."
---
Corrections: An original version of this piece stated that Dan Giove was nine years sober before founding Dubspot in 2006, but according to the author's interview transcript, it was nine years following 2006. It also attributed the quote "There were lots of shady refund practices with students; it seemed like a money-grab kind of situation… [Giove] still owes me money to this day" to source Robbie Lumpkin.
It was actually contributed by an anonymous source.
David Garber is a writer and DJ living in Brooklyn. He was previously the Associate Editor at VICE's THUMP and his work has appeared in Resident Advisor, Bandcamp and Electronic Beats. Find him on Twitter .
Read next: How the hell did this EDM festival trailer calling out sexist culture go so wrong?
Tags: Dubspot
Share on Facebook
Share on Twitter
Share on Whatsapp
Comments
Ads & Related Stories
Sep 7 2018
Mac Miller dead at age 26
Sep 7 2018
Deep Inside: September 2018's must-hear house and techno playlist
Advertisement
Want to advertise here? Click here
Latest Stories
Latest Stories



How world-renowned DJ and production school Dubspot fell apart




Mac Miller dead at age 26




Deep Inside: September 2018's must-hear house and techno playlist




East Man launches new label, Hi Tek Sounds




Príncipe trio Niagara to release debut album, Apologia




Julia Holter returns with fifth album, Aviary




Shinichi Atobe drops new double album for DDS, Heat




Kelly Moran signs to Warp for new album, Ultraviolet




NI unveils nine new products across Maschine, Traktor and Komplete lines




FACT Rated: H. Takahashi




Yves Tumor surprise releases Safe In The Hands Of Love album on Warp




Black Corporation teases eight-voice Xerxes synthesizer




Pioneer DJ launches XDJ-RR all-in-one system for Rekordbox




Masayoshi Fujita – Against The Clock




World's biggest synth collection launches Kickstarter for public 'Playroom'




MasterSounds and TPI unveil "definitive" turntable isolation system




Jay Glass Dubs to release Plegnic LP on Ecstatic Recordings




FACT mix 669: Dr. Rubinstein




Courtesy launches new label, Kulør, with Copenhagen techno compilation




The Vinyl Factory meets Japanese composer and musician Midori Takada
Share
Tweet
+
Our privacy policy has changed – please go here to update your preferences.
We use cookies to ensure that we give you the best experience on our website. Learn more
Home
About

Partners
Press
Policies
Frequently Asked Questions
Gift Certificates
Contact

Courses

EMP Master Program
DJ / Producer Master Program
DJ / Producer
Music Foundations
DJ
Music Production w/ Ableton Live
Music Production w/ Logic Pro
Sound Design
Mixing and Mastering
Maschine

Online School
Instructors
Blog

DJ Tips Tricks
Production Tips Tricks
Mixing and Mastering
Sound Design
Music Technology
iOS
Events
Artists Labels
Giveaways Contests
Video Tutorials
Workshops
Sign In
Already a member? Sign-in!
Don't have an account?
This sign in is for students with registered accounts taking courses at the Dubspot Online School .
Problems signing in?
Email us at [email protected]
About
Instructors
Facilities
Partners
Open House
Gift Certificates
Press
Policies
Event Services
International Students
Job Opportunities
FAQ
Press
Contact
Courses
DJ / Producer Master
DJ / Producer
Music Foundations
DJ
Ableton Live
Logic Pro
Sound Design
Mixing and Mastering
Visual Performance
Maschine
Reason
Kids Programs
Weekend Workshops
More from Dubspot
Videos
Gift Certificates
Events & Rental Services
Interact With Us
Stay Updated
Subscribe to our newsletter for the latest music courses, events and current school updates.
Dubspot
© 2016 DS14, Inc. – Dubspot | 138 5th Ave, New York, NY 10011 | 212.242.2100 – 1.877.DUBSPOT (1.877.382.7768) | Contact Us
Equipment Policy | Privacy Policy | Student Code of Conduct | Student Enrollment Terms and Conditions | Website Terms & Conditions