Our website is changing
In the coming weeks, our website will be changing. Find out more about how this will affect you.
Read more
RIIO regulatory framework
Ofgem's regulatory framework is known as RIIO (Revenue = Incentives + Innovation + Outputs). The RIIO model offers network companies incentives for securing investment and driving innovation. This ensures the delivery of sustainable energy networks at the lowest cost for current and future customers.
Enquiries
If you have any queries, please email us.
The current RIIO period (T1) runs to April 2021. When consultations begin for RIIO T2, you can find up-to-date details on our Talking Networks website . 
Under RIIO the outputs we deliver are clearly articulated and are integrally linked to the calculation of our allowed revenue. These outputs have been determined through an extensive consultation process, which has given stakeholders a greater opportunity to influence the decisions.
The output categories are:
Safety: ensuring the provision of a safe energy network.

Reliability (and availability): promoting networks capable of delivering long-term reliability, minimising the number and duration of interruptions experienced over the price control period, and ensuring adaptation to climate change.

Environmental impact: encouraging companies to play their role in achieving broader environmental objectives–specifically, facilitating the reduction of carbon emissions–as well as minimising their own carbon footprint.

Customer and stakeholder satisfaction: maintaining high levels of customer satisfaction and stakeholder engagement, and improving service levels.

Customer connections: encouraging networks to connect customers quickly and efficiently.
Within each of these output categories are a number of primary and secondary deliverables, reflecting what our stakeholders want us to deliver over the remaining price control period. The nature and number of these deliverables vary according to the output category, with some being linked directly to our allowed revenue, some linked to legislation, and others having only a reputational impact.
Ofgem, using the information we have submitted, along with independent assessments, determines the efficient level of expected costs necessary to deliver them. Under RIIO this is known as totex, which is a component of total allowable expenditure and is the sum of what was defined in previous price controls as operating expenditure (opex) and capital expenditure (capex).
A number of assumptions are necessary for setting these outputs, such as certain prices or the volumes of work that will be needed. Consequently, there are a number of uncertainty mechanisms within the RIIO framework that can result in adjustments to totex if actual prices or volumes differ from the assumptions. These mechanisms protect us and our customers from windfall gains and losses.
Where we under- or over-spend the allowed totex for reasons that are not covered by uncertainty mechanisms, there is a sharing factor. This means the under- or over-spend is shared between us and customers through an adjustment to allowed revenues in future years. This sharing factor provides an incentive for us to provide the outputs efficiently, as we are able to keep a portion of savings we make, with the remainder benefitting our customers.
This sharing factor is one of the ways that RIIO has given innovation more prominence. Innovation includes traditional areas such as new technologies, as well as the broader challenge of finding new ways of working to deliver outputs more efficiently. This broader challenge has an impact on everyone in our business.
Allowed revenue to fund totex costs is split between fast and slow money – a concept under RIIO, based on a specified percentage that is fixed for the duration of the price control. Fast money represents the amount of totex we are able to recover in the next available year. Slow money is added to our RAV – effectively the regulatory IOU. In addition to fast money, in each year we are allowed to recover a portion of the RAV (regulatory depreciation) and a return on the outstanding RAV balance.
The asset life for regulatory depreciation in electricity transmission spans 45 years across the RIIO period. We are also allowed to collect additional revenues related to non-controllable costs and incentives.
The incentive mechanisms can increase or decrease our allowed revenue and result from our performance against various measures related to our outputs. RIIO has incentive mechanisms that encourage us to align our objectives with those of our customers and other stakeholders. For example, performance against our customer satisfaction targets can have a positive or negative effect of up to 1% of allowed annual revenues. Most of our incentives affect our revenues two years after the year of performance.
During the eight year period of the price control, our regulator included a provision for a potential mid-period review, with scope driven by:
changes to outputs that can be justified by clear changes in government policy; and

the introduction of new outputs that are needed to meet the needs of consumers and other network users.
The mid-period review focused on three specific areas, all of which relate to National Grid's transmission outputs (both gas and electricity).
Under the RIIO controls, we are required to deliver agreed outputs for consumers and are funded to cover the costs of delivering these. The eight-year price control includes a number of uncertainty mechanisms to take account of the fact that some outputs and funding cannot be set with certainty at the start of the period.
Talking Networks
Talking Networks is our dedicated website for involving our stakeholders in the development of our business plans. If you would like to view our business plans or become involved in our ongoing engagement please visit Talking Networks.
Go to the Talking Networks website
WebFG
webfg
storiesRelated.title
This website is for Private Investors* only
I am a private investor*
I am not a private investor
*A Private Investor is a recipient of the information who meets all of the conditions set out below, the recipient:
Obtains access to the information in a personal capacity;
Is not required to be regulated or supervised by a body concerned with the regulation or supervision of investment or financial services;
Is not currently registered or qualified as a professional securities trader or investment adviser with any national or state exchange, regulatory authority, professional association or recognised professional body;
Does not currently act in any capacity as an investment adviser, whether or not they have at some time been qualified to do so;
Uses the information solely in relation to the management of their personal funds and not as a trader to the public or for the investment of corporate funds;
Does not distribute, republish or otherwise provide any information or derived works to any third party in any manner or use or process information or derived works for any commercial purposes.
o

Don't have an account?

Sign In
Tell us more
You are seeing these quotes based on previous browsing related to sectors such as
07 Sep, 2018

Home

News and Announcements
30 Jul, 2018 09:30
30 Jul, 2018 09:30
Ofgem proposes tougher price controls, clarifies plans for Hinkley Point connection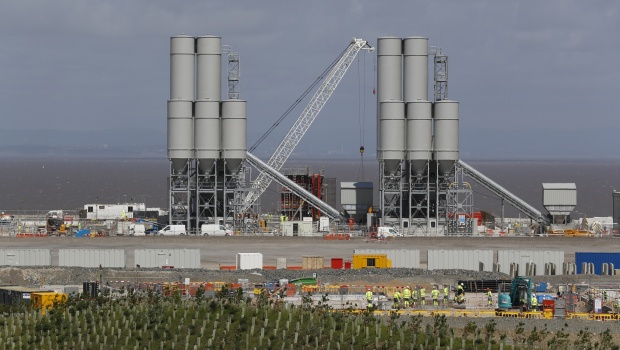 Ofgem said its plans to deliver savings of more than £5bn to consumers through "tougher price controls" for energy networks moved a step closer on Monday.
The energy regulator said the price controls would set the revenue monopoly network owners could earn from charges to consumers.
It confirmed that the default length of the next controls from 2021 would be five years, compared to the current eight years.
There would be no update to the 3%-5% cost of equity range – that is, the amount companies could pay their shareholders – at present.
That would be the lowest rate ever proposed for energy network price controls in Great Britain, Ofgem claimed.
It estimated that would result in savings of more than £5bn for household consumers, or between around £15 and £25 per year on a dual fuel household bill.
Ofgem also said it would extend the scope for opening up high value network upgrades to the benefits of competition across the gas and electricity sectors in the next price controls.
To signal its intent, Ofgem confirmed that National Grid could build the grid upgrade to connect the new Hinkley Point C nuclear power station.
However, Ofgem said it would set the revenue National Grid could earn from the upgrade based in part on its experience in cutting the costs of connecting offshore wind farms to the grid by tendering the ownership of these links.
"Today we have set out our plans which will bring in tougher price controls with lower expected returns for network companies," said Ofgem's executive director for systems and networks Jonathan Brearley.
"This is part of our ongoing programme to ensure that consumers get reliable and secure power supplies at a fair price."
Brearley said that, as part of that continuous drive to deliver value for consumers, the regulator was using a new benchmarking approach to cut the costs of connecting the new Hinkley Point C nuclear power station.
"This is another example of how we are evolving regulation to deliver the upgrades to our power network while ensuring the impact on bills is kept as low as possible."
Ofgem added that its decision on the framework for setting the next price controls also confirmed that new independent user groups and customer engagement groups would be set up by each of the companies to give consumers a stronger voice in how the price controls are set.
For the first time, open hearings will take place in the spring of 2020 where companies' spending plans would be scrutinised.
The regulator was also retaining a funding package in the next price controls for innovation.
Technologists, scientists, inventors and innovators would reportedly be able to use that funding to solve some of the "biggest research and development challenges" in adapting the energy networks to a smarter, more flexible energy system.
That would include increased use of electric vehicles, more local production of energy and integrating digital technology.
National Grid quick to respond to Ofgem proposals
National Grid issued a rapid response to the proposals, saying it was "pleased" that the decision provided further clarity on the length of the price control from April 2021, and continued to put consumers and other stakeholders in a "central role" in the process.
The FTSE 100 firm, which operates Britain's national high-voltage transmission network, said it looked forward to continuing to work "constructively" with Ofgem and other stakeholders over the coming months to achieve the "best possible outcome" for all stakeholders.
On Ofgem's final decision on the delivery model for the Hinkley-Seabank project (HSB) National Grid said Ofgem's decision did not affect its commitment to delivering HSB to time and to quality as per its licence obligations.
"We will now review the detailed decision by Ofgem and consider all of our options prior to Ofgem formally implementing the proposals into our licence later in the year or early 2019," the National Grid board said.
"The HSB project is expected to have a total cost of around £650m, with the majority of forecast spend by National Grid Electricity Transmission plc in the RIIO-T2 price control period from April 2021 onwards."
THE MOST READ
Playtech offloads entire stake in Plus500
BA pledges compensation for customers hit by data breach
EU's Barnier open to discussing new Brexit customs arrangement
London midday: Stocks drop as pound rallies; non-farm payrolls eyed
Buy Diageo on the dips ahead of US revival, says Morgan Stanley
SEE THE FULL LIST
SMART BOX info
More about you
You are seeing these quotes based on previous browsing related to sectors such as:
You are seeing these stories as you have shown an interest in the following categories
RELATED NEWS
storiesRelated.scrollNewsPercent % Complete
Ofgem proposes tougher price controls, clarifies plans for Hinkley Point connection

Tesla tanks as chief accounting officer quits


US August NFP miss forecasts, but wage growth picks-up


Buy Diageo on the dips ahead of US revival, says Morgan Stanley


BA pledges compensation for customers hit by data breach


EU's Barnier open to discussing new Brexit customs arrangement


Europe midday: Stocks dip ahead of jobs data, trade risks alive in the background


US pre-open: Stocks to edge down ahead of payrolls; trade in focus

London midday: Stocks drop as pound rallies; non-farm payrolls eyed


Ethernity profits dive amid slow transition to virtual networking


Amerisur issues update on Colombian projects