What is a Statement of Financial Need?
Degree Finder

Sponsored Schools
What is a Statement of Financial Need?
Degree Finder

Sponsored Schools
Online Colleges

Online Colleges Universities
Online Community Colleges
Online College Degrees
Online Master's Degrees

Majors

Business and MBA
Psychology
Computer and IT
Nursing Healthcare
Education
Criminal Justice Legal
Liberal Arts
Science Engineering
Art Design

About Us
Contact
Higher education is expensive, and many financial resources require a Statement of Financial Need when identifying applicants for scholarships and aid. Of course, as pointed out by a student on the forum " answers.yahoo.com ," you can enclose the estimated financial contribution from the FAFSA application, but most scholarships and grants require personal statements as well. Requirements vary by scholarship and school, so how do you write a financial needs statement?
What Exactly is a Statement of Financial Need?
It is a short letter, usually about two or three paragraphs, that explains why you would benefit from being awarded a scholarship. This is not a debit-and-credit sheet such as the FAFSA application requires. The Statement of Financial Need should be concise and compelling.
Start With a Brief Introduction
First, list any special scholarship need groups to which you may belong. Are you the first in your family to go to college? This is the place to explain that. Are you from a disadvantaged family? Are you from an ethnic group that is under-represented at the school? In this introductory paragraph, you give the financial aid committee a picture of who you are.
Explain How You are Paying for College Now
Let them know you are not ignoring other sources of help. Tell the committee if you are working to help pay college expenses. Detail what steps you have already taken to pay for your education, such as 529 Savings Plan . This gives the scholarship committee a starting point from which to understand your financial situation.
Explain Difficulties You Are Having in Meeting Your Needs
A Statement of Financial Need should tell the committee why you are seeking aid. This is the place to talk about any changes that have occurred in your life that impact your ability to pay for your education. For instance, there may have been changes in your family's income, unanticipated expenses or a shortfall in your finances. In this area, you can also provide information to show that you handle funds responsibly. For instance, have you already paid for a semester, or a year, by your own efforts? If you broach this issue, though, include only information about education, and not about unrelated things like car loans.
Talk About How You Would Benefit From the Scholarship
This may seem obvious, but it is important for the committee to understand that you intend to make good use of the funding. According to the financial aid page at " umass.edu," this might include benefits like being able to concentrate on your studies by not spending so much time working. The funds might also allow you to take an unpaid internship required by your degree. In fact, the scholarship may make the difference between dropping out and finishing your studies. If that is the case, let the committee know.
Close In a Brief and Respectful Tone.
Do not beg. Avoid emotionalism. Let your tone be professional and polite.
Scholarships and financial aid are privileges, not inherent rights; the opportunities that these funds give students are invaluable. Schools and funding sources have a great responsibility in deciding to whom the awards should go. A Statement of Financial Need is one tool they use, and it is up to the student to make it as "sharp" as possible.
Related: Merit Based or Financial Need – Which Scholarship is Easier to Obtain?
Online Colleges

Online Colleges Universities
Online Community Colleges
Online College Degrees
Online Master's Degrees

Majors

Business and MBA
Psychology
Computer and IT
Nursing Healthcare
Education
Criminal Justice Legal
Liberal Arts
Science Engineering
Art Design

About Us
Contact
The Scholarship System
Paying for college begins here
Home
/
Scholarships & Financial Aid
How to Write Winning Scholarship Essays
Scholarships & Financial Aid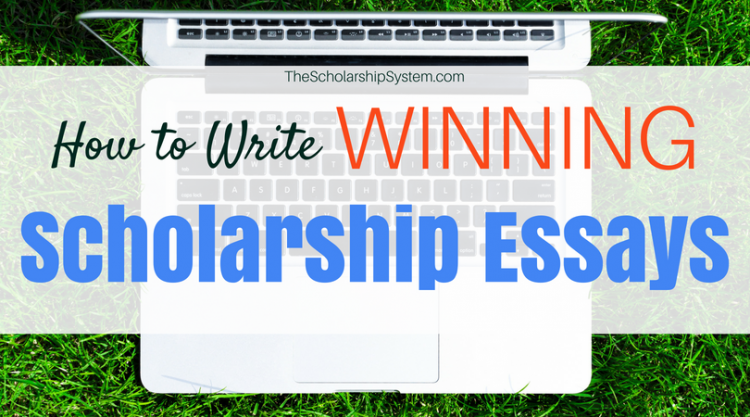 The vast majority of legitimate and reputable scholarships are going to require an essay as part of the application process, which means your student needs to know how to write winning scholarship essays. Otherwise, they may miss out on exciting opportunities for free money to help pay for college, increasing the odds that they'll need student loans to make ends meet.
While "no essay" scholarships do exist, most of these are no more than sweepstakes, and some of them are incredibly sketchy. If you want to know more about no-essay scholarships, check out this article: What You Need to Know About No Essay Scholarships
Writing winning scholarship essays isn't as challenging as it sounds, as long as your student knows the best approach. To help them get started, here is an in-depth guide on how to write a scholarship essay that will grab the attention of the committee for all of the right reasons.
Read All of the Instructions to Write Winning Scholarship Essays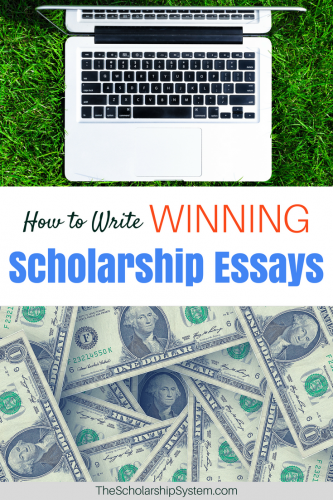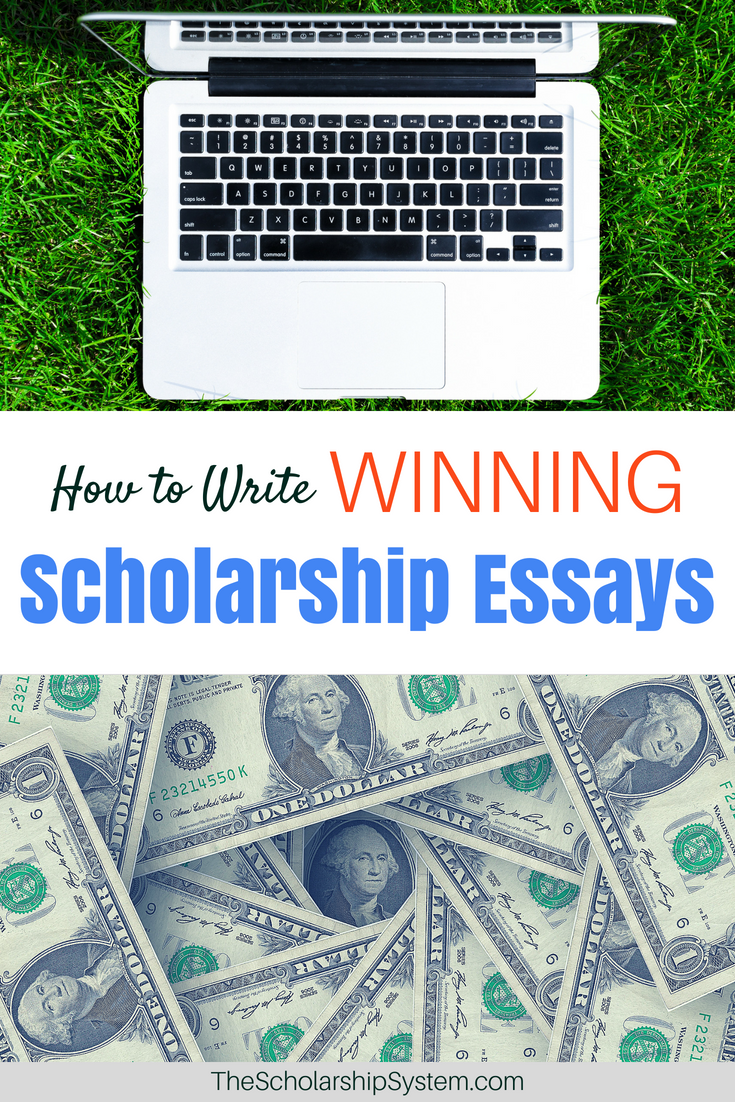 While this may seem like common sense, many students rush through the instructions section before they start writing their scholarship essay. Why? Because reading instructions isn't fun and many students are fairly pressed for time.
Ultimately, winning scholarship essays always adhere to the instructions. If your student misses a requirement, their essay may be automatically discarded, meaning they spent all of that time writing for no gain.
Have your student examine the instructions to look for details that outline the process including these:
Topic they must cover
Formatting requirements
Due date
Word count
Sourcing requirements
Only after this step is complete should they move forward.
Define the Audience for the Scholarship Essay
The audience of a scholarship essay is whoever will be reading it, and catering the content to those groups of people helps create winning scholarship essays.
While you likely won't know exactly who is going to review their essay, they can infer a lot of information based on the organization or business that is providing the funds. For example, if your student can discuss a topic that relates to a company's products, services, values, or mission, it may be easier to connect with the reader on a meaningful level.
Typically, you can figure out the audience's priorities by reviewing the organization's website. Read through the product or service descriptions, About Us section, as well as any mission statements to get insight into the group's values.
Brainstorm Before Writing Scholarship Essays
In many cases, scholarship essay topics give your student a lot of leeway regarding what they can write. In fact, they may be able to choose from multiple prompts, something that may make it harder to figure out what winning scholarship essays for this organization entail.
When writing a great scholarship essay, brainstorming is an important part of the process. They should grab a sheet of paper, list every topic or prompt, and jot down notes of examples that apply to each one. With our students in The Scholarship System , we teach them mind-mapping for this step, a powerful tool to uncover creative essay ideas.
Usually, brainstorming only takes a few minutes, but it can make a world of difference when writing winning scholarship essays. It allows them to organize their thoughts and identify ideas that excite them.
Choose the Right Topic to Cover
After your student brainstorms, they should focus on topics that ignite their passion. If they are excited about the idea, it's often easier to write about it. Plus, their enthusiasm will shine through.
Review the list of ideas and choose an option that peaks interest and fits the prompt. This makes writing winning scholarship essays feel like less of a burden, which can go a long way when your student wants to apply to a long list of scholarships.
Some key aspects to look for when selecting a topic include:
One that speaks to core values
Why the investment (the scholarship) is worth it
How it led them to their degree choice or career path
Ideally, the topic should relate back to at least one of the points above, creating a connection between the content of the scholarship essay and your student's future.
Structuring Winning Scholarship Essays
Winning scholarship essays are always well-structured, so creating an outline is a smart move. Most high school students are familiar with essay outlines, so your student should be able to handle this with relative ease.
Introduction
Begin by structuring the introduction. Usually, your student will want to have an attention-grabbing first sentence followed by a short explanation of what will be discussed and a thesis statement that directly addresses the prompt. Students can get creative here but any story, question or attention-grabbing beginning should clearly tie into the rest of the essay and of course relate to the prompt.
Body
Ideally, each body paragraph should discuss a single point that relates to the topic, usually in a few sentences. If possible, it's a great idea to make the point through a mini story or example. This keeps the essay interesting for the reader and helps them understand the writer even better. For example, rather than saying "I initially decided I wanted to be a lawyer in 9th grade…," a student can instead share a quick story or example and sum it up with "That is when I first discovered my passion for law."
Transitions
Having quality transitions between paragraphs is also essential as it improves the flow of the essay. To structure this portion, your student can write each point they want to cover and arrange them in an order that promotes readability and logical segues.
Conclusion
The conclusion should wrap everything up by reemphasizing how the prompt was addressed, discussing lessons learned, and even speaking to the core values of the audience. Depending on the essay prompt, students can stress how this essay shows they are a great candidate for the scholarship. Again, a few sentences will usually suffice.
After writing the outline, review it to make sure that it adheres to every requirement in the instructions and that every component provides value to the reader. Remember, winning scholarship essays always meet the requirements, so it's wise to review this before the writing phase begins.
Related articles:
8 Best Websites to Find College Scholarships
How to Win Scholarships with the Right Scholarship Essay Format
How to Find Local Scholarships for Your Teen's College Education
Writing the Scholarship Essay First Draft
With the outline in hand, your student now has a guide for writing a high-quality first draft of their scholarship essay. How they decide to approach this phase may depend on their personal style.
Some students like to begin with the introduction, move through the body, and then create a conclusion. However, others may prefer to write the body first and then craft the introduction and conclusion after. Both approaches are perfectly acceptable as long as the final paper flows logically.
First drafts are allowed to be rough, so it's fine if your student just lets their ideas run rampant while they create. Let their passion guide them as they get their thoughts down on paper.
It's also okay to ignore spelling or grammar errors as they write as these can be cleaned up during editing. Writing the first draft is more about getting all of their ideas on paper than anything else, so a degree of sloppiness isn't inherently a problem.
Refining First Drafts into Winning Scholarship Essays
Once everything is written, now is the time to refine the content. First, your student should correct any mechanical issues, like spelling or grammar mistakes. There are a variety of tools that can help them do that, but it's also important to not rely on technology entirely.
A great approach for finding errors is to read the essay out loud. This allows your student to potentially hear problems, which can be easier than spotting them with their eyes. In some cases, using a text-to-speech program can work too, allowing your student to listen for issues.
In the vast majority of cases, winning scholarship essays are error-free, so finding mistakes and correcting them is critical for your student's success.
Once the errors are corrected, the draft can be reviewed for flow. Ideally, each paragraph should shift naturally into the next, following a logical thought pattern or progression through an event. If a transition feels awkward or a detail feels out of place or unnecessary, then edits should be made.
After that is complete, your student should recheck it a final time to ensure that all of the requirements set forth in the instructions are met. This includes everything from properly covering the topic to meeting word count minimums and not going over maximums. Similarly, they should take a look at the formatting to make sure they used the proper font and size, margins, spacing, and anything else listed in the instructions.
Get an Outside Opinion
After the draft is refined, it could be time to get a second opinion. Often, it will be difficult for your student to review their essay objectively, so having someone else take a look is smart.
Who they choose is up to them, but some options worth exploring include trusted teachers and tutors. Parents can also make a good choice if their writing skills are strong, but some students won't be comfortable with their parents reading what they wrote, depending on the topic. In those cases, selecting someone else is a better option than trying to force the issue.
Finalize and Submit the Essay
After the essay is reviewed by someone else, your student should make any final edits based on the feedback they receive. Then, once it is ready, it's time to submit the scholarship application and essay for consideration.
By following the steps above, your student can increase their odds of writing winning scholarship essays that help them find free money for college. After they use the process a few times, it will likely begin to feel like second nature, making each essay easier to complete than the last.
Want even more help on writing scholarship essays? Grab a copy of our Free 3-Step Scholarship Essay Writing Guide where you learn the exact 3 steps we teach our students. This 3-Step Method helps even those students who hate writing!
Click here to grab a copy of the writing guide
If you and your student would like to learn more about how to find scholarships that can help pay for college, sign up for our  free college scholarship webinar ! We cover how to spot the scams so you can make sure your student is applying to scholarships that are actually worth their time. Join the next free training here:  www.thescholarshipsystem.com/freewebinar.
« 8 Easy Ways to Motivate Your Child to Apply for Scholarships
Personal Assets That Can Help You Pay for College »
Leave a Reply Cancel reply
About The Scholarship System
The Scholarship System is all about strategies to help students and their families pay for college. We've created a step-by-step process to teach ANY STUDENT how to secure college funding, saving families more than $720,000 so far.
Rather than being buried in debt, your child can get their college PAID FOR! Ready to take the next step? Click the button below to join our next FREE webinar and learn more.
Register for FREE Webinar
75 Easy Ways to Save Money in College

5 Steps to Negotiate College Tuition and Save Thousands of Dollars

New FAFSA Changes: 5 Quick Tips to Maximize Financial Aid

Home
Affiliate Disclaimer
Disclaimer Privacy Policy
Contact